>>>How is an original RK sculpture created?<<<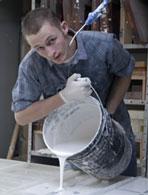 Each piece of artwork in the RK Productions "Hand Cast Stone Collection" is an original sculpture, hand sculpted and moulded by our artisans. It is from these original sculptures or 'Masters' that we meticulously created a mould.
The concept and design process of each piece begins long before any actual sculpting takes place. Most of our designs come from our interpretation of elements found in our environment. Hours of research, both technical and historical, go into every piece we design. Initial concept sketches are compiled and modified (sometimes even utilizing computer assisted layouts) and prototypes are completed. Using these rough 3-D models as references, we begin the creative process of turning our models into finished sculptures.
Directly from these originals we make a mould. Because each sculpture is unique unto itself, a special mould must be created for each original. Making a mould that will pick up even the minutest details is as much of an art as sculpting itself. We pride ourselves in being able to flawlessly capture this detail from each original sculpture. We strive to ensure that each product is a beautiful expression of style and creativity.
All of our products are copyright protected by law. We go to great lengths to ensure our copyrights remain protected. Your help in this regard is much appreciated. If you ever suspect that one of our pieces is being made elsewhere, please let us know so that we may take the necessary steps to stop these counterfeits.
Keeping up the quality and integrity of our pieces is vital. Before a finished sculpture is shipped, it is inspected and re-inspected at various stages a total of three times. Our Quality Control department ensures the sculpture you receive will be in perfect condition.
Whether you are decorating your home or giving a gift to someone you care about, our products will delight you from the minute you see it. RK Productions original designs and sculptures will add warmth and charm to any seaside, country or urban home.Whether you are decorating for the first time or adding our unique art to your home, the classic elements of our designs will add years of pleasure to any surroundings.