Dear Friend,
Welcome to the "Hand Cast Stone Collection" of RK Productions. Our company was created because of a love for sculpture, architectural and statuary elements. We combine the latest in technological materials while utilizing old world craftsmanship. Our creative designs begin their journey to your store from our own inspirations and artistic
expression. Each piece is a unique work of art. We proudly create our own exclusive sculptures from start to finish using a variety of materials. A mould is then made of each new sculpture exclusively by RK Productions. The combined processes of mould making and sculpting, with such painstaking attention to detail, has taken years to perfect. We are pleased to be able to reproduce our sculptures so exactly, that on some pieces, even our artists fingerprints may be seen. Each original casting is then poured and finished by hand.
Our castings are comprised of a variety of natural stone-like materials. The materials we use to cast our sculptures are incredibly strong to ensure their long lasting enjoyment. Our interior pieces are cast in a proprietary blend of Gypsum cements. Our products may go outdoors if they remain in a protected area where there is minimal exposure to the elements.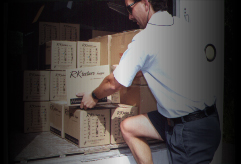 To enhance the beauty of our sculptures, each piece is available in a variety of colour finishes. All of our ten colour finishes go far beyond the surface of each piece. Special colourants are added at the casting stage to ensure thorough pigmenting of colour throughout each individual piece. Because of the nature of these hand applied finishes and casting materials, no two sculptures will ever be exactly the same. You will be receiving an original work of art, dated and stamped with the RK Productions Inc. Trademark. All of our products are copyright protected. We appreciate feedback from our customers. If you or your clients have any ideas or requests for new products please submit them and we may be able to create them for you.The hand crafted quality and durability of these uniquely expressive stone sculptures will allow them to be treasured for years to come. We are sure you will enjoy our sculptures as much as we've enjoyed creating them for you.
Thank you for your interest in RK Productions Inc. "Hand Cast Stone Collection".
Randy Koufalis
President